Tomorrow we head up to San Francisco for bottling day.  Life on a vineyard brings many ups and downs throughout the year.  The life cycle of farming does not come without risks.  There are frosts to worry about in early spring and new shoots to train.  Once the vines are producing fruit you have to contend with all the critters that also want to eat grapes.  With the beginning of  fall we are all waiting and watching for the anticipated harvest.  We check the grapes and check the sugars waiting for the perfect balance of sugars and ripeness to pick the fruit.
Wine making has some similar cycles that start with harvest /crush and finally ends with bottling.   One of my favorite days is the day our wine travels  from the barrel to the bottle.  We at SRV refer to it as  "Bottling Day". We will taste the wine, inspect the process and savour every moment as we watch all our hard work get bottled up!  
I am playing Photo Story Friday.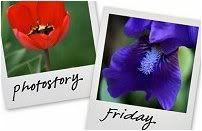 Hosted by Cecily and MamaGeek